We are hard at work for our event this year. We have a new venue and even better items and reaching for our goal of $100k. Please help us get there!!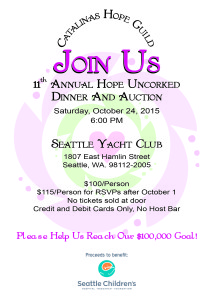 Hope Uncorked 2014
Join us for our 10th Annual Auction and Wine Pairing!!
This year's event will be held on September 27th, 2014 at 6pm at Glendale Golf and Country Club. Space is Limited!! If you have any questions or are interested in joining, contact t.mdgrein@frontier.com or 425-822-9967.
Our MC This Year is Radio Personality Bender from KISS FM!
The Bender Nation with Molly Mesnick, Ben Schubert and Kat! Every morning on 106.1 KISS-FM and iHeartRadio. Watch us on KISS-TV at TheBenderNation.com!
http://www.Twitter.com/TheBenderNation
http://www.TheBenderNation.com
http://www.KISSFMSeattle.com
Thank you to Stokes Auction Group!
With close to twenty years of experience planning, managing and executing charity auctions, the staff at Stokes Auction Group will work their magic through a combination of consulting, workshops and talented professionals by helping put on a benefit or charity auction.
This Years Patient Speaker is Milton Wright
Last fall, 20-year-old Milton Wright III had no treatment options for battling his cancer. Today, he is expected to live a long, healthy life. This is the incredible story of how two determined researchers, Children's Hospital and the parents of a young boy came together to save him.